Debt Capital
Ackman-Ziff is a global leader in structuring and placing creative debt capital for institutions and real estate owners and developers. The depth and breadth of over 90 years of experience enables the firm to creatively blend existing debt products with leading-edge, innovative capital market solutions.
Ackman-Ziff continues to develop proprietary methodologies based on the prevailing market's risk-reward profile to deliver optimal outcomes for clients. The firm has institutional capabilities in building a wide variety of debt facilities, including, but not limited to, acquisition financing, permanent financing, interim financing, debt recapitalization, lender financing, note financing, construction financing, renovation financing, and forward take-out financing. Ackman-Ziff has deep and long-standing relationships with a myriad of capital providers, including domestic and foreign banks, insurance companies, CMBS lenders, CDO providers, credit companies, pension funds, BDCs, family offices, Agencies, REITs, private lenders, and hedge funds. Such diversity among capital sources enables Ackman-Ziff to successfully build a comprehensive suite of customizable products and structures for clients.
Structured Finance
Ackman-Ziff has unique expertise in developing structured debt solutions. Such solutions both minimize higher-cost equity by achieving maximum leverage and blend senior and sub-debt at various leverage levels; together creating the most efficient cost of capital for clients. Ackman-Ziff utilizes its hallmark vertical structuring and horizontal syndication processes to tranche debt facilities among various risk profiles resulting in optimal structure, pricing, and terms.
By pairing existing mezzanine solutions with new sub-debt products, Ackman-Ziff often exploits a natural arbitrage between traditional and non-traditional capital sources while simultaneously paying particular attention to mitigate the common risks, costs, and delays inherent in structured transactions. Together, these elements ensure clients objectives are met.
Equity Placement
Ackman-Ziff's equity practice comprises professionals who have invested for the most prestigious and sophisticated investment managers in the world. Such comprehensive investing expertise, combined with the firm's unparalleled access to capital, enables Ackman-Ziff to operate what is considered the industry's leading equity placement business.
The foundation of the equity group's success is the combination of experience-derived proprietary methodologies with creative structuring and execution capabilities. Beginning with a thorough analysis of deal elements, AZ equity professionals underwrite transactions based on real-time knowledge of the ever-changing capital markets. This knowledge allows Ackman-Ziff to match the right equity structure and equity partner with each client's unique circumstances.
Investment Sales
Complementing Ackman-Ziff's capital markets expertise, the Investment Sales team looks at real estate assets and portfolios holistically; tailoring disposition strategies to efficiently maximize returns, reduce risk, and create liquidity. The team of seasoned investment sales professionals is well integrated into the Ackman-Ziff platform, allowing the firm to thoughtfully coordinate the execution of multiple recapitalization strategies across all asset classes.
Maximizing the value of clients' assets requires a focused strategy, one that addresses the seller's timing and tax objectives, highlights property strengths, offers solutions to asset-level challenges, uncovers potential upside, and pairs capable investors with appropriate acquisition financing.
Ackman-Ziff's knowledge of – and continuous activity in – the global capital markets keeps the firm in close contact with a multitude of established and emerging real estate investors: private and public, off-shore and domestic, high net worth and institutions.
Loan Restructuring
Ackman-Ziff offers institutional and entrepreneurial real estate owners a comprehensive range of capital advisory services, including loan restructuring. Our deep understanding of lender practices and priorities enables us to assist clients in navigating the loan restructuring process and to provide creative solutions to achieve successful resolutions. We have specialists with experience in managing real estate portfolios, giving them a unique perspective on our clients' issues as owners.
We represent clients with real estate loans throughout the capital stack (first mortgages, mezzanine debt, and preferred equity) and within all asset classes, including but not limited to hospitality, retail, healthcare, office, for-sale and for-rent residential, and industrial properties. Our practice ranges from middle market, single-lender loans to complex, multi-lender participations, syndicated credits, single-asset and portfolio loans nationwide. The firm has extensive experience interfacing with workout departments of balance sheet lenders and with CMBS and CRE CLO special servicers.
Loan Sales
Ackman Ziff's Loan & REO Sales Group has extensive experience providing advisory services related to the sale of individual whole loans, loan portfolios and real-estate-owned (REO) as a result of foreclosure. In addition, the group provides loan valuations, collateral valuations, and the restructuring and sale of assets from all holders of commercial real estate debt.
The Loan & REO Sales Group includes former bankers and legal professionals who work collaboratively with attorneys, litigation, and bankruptcy departments to provide our clients with an integrated and fully supported approach to addressing and resolving the issues and problems that can arise in a lending relationship during the life cycle of a loan.
Ackman-Ziff has recently formed a collaboration with DebtX to provide an even more comprehensive sales platform for clients to service their entire portfolio. DebtX's technology and loan sale execution capabilities, coupled with Ackman-Ziff's institutional account relationships and robust commercial real estate underwriting skills, have been brought together to form a best-in-class loan sales advisory team. Together, this collaboration aims to deliver unparalleled expertise and service to clients, distributed through a secure and seamless, web-based deal management platform. Ackman-Ziff and DebtX's joint services allow full-service coverage of a client's entire loan sale portfolio – from individual "story" whole loans, volume-based middle-market sales and large institutional sales over $100M.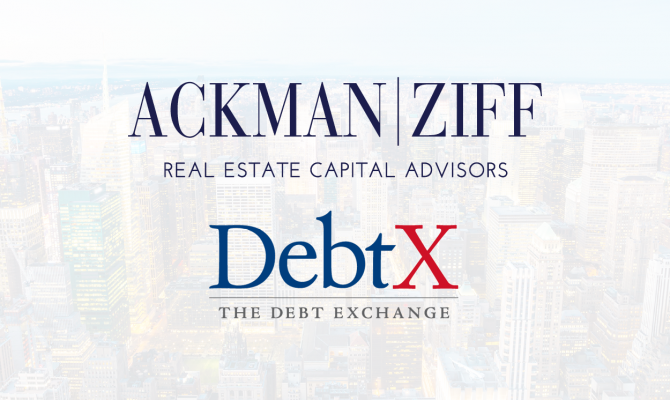 Special Situations
Ackman-Ziff's Special Situations Group ("SSG") is a dedicated team of experienced professionals that develops institutional capital structures for non-traditional real estate-related assets.
The group possesses unique expertise in creatively structuring and placing equity, debt, and mezzanine capital in a variety of complex assets including, but not limited to: single family rentals (SFR), leveraged loans, corporate credit, ski resorts, non-performing loans (NPL), farmland, unrated credit, mortgage servicing rights (MSR), institutional fix-and-flips, and timberland and sports-related real assets.
Ackman-Ziff's SSG is known to be the leader in understanding risk, reward, and liquidity in these highly complicated and esoteric real asset classes. This enables the firm to successfully build efficient capital stacks that meet the goals of AZ's institutional client base.
Global Partnership
Ackman-Ziff and Europe-based Mellum Capital GmbH have formed an exclusive global partnership to expand its debt and JV equity capital markets advisory services internationally. Together, this collaboration aims to deliver seamless investor coverage across the Atlantic covering all asset classes and all parts of the capital structure.
This new co-operation framework will cover cross-Atlantic capital flows and transatlantic new business origination. Transactions involving US assets will be executed by Ackman-Ziff, and transactions involving European assets will be executed by Mellum Capital. This will allow best "on the ground" transaction execution while facilitating superior client service and comprehensive international investor access. The two firms will continue to run the majority of their respective national mandates independently.
Exceptional levels of client service, high ethical standards and a track record of delivering success against complexity and uncertainty continue to be key priorities for both firms.