Summer Intensive Course – 2023
Session 1: June 26, 27, 28, 29 (Undergraduates)
Session 2: August 7, 8, 9, 10 (Expanded to include post-undergraduate and graduate students)
Spring Seminar – 2023
Ackman-Ziff is pleased to be sponsoring AZ Educate | Spring Seminar, a 1 day live and in-person course hosted at NYU. In this unique educational experience students will learn tangible and tactical methods of connecting and communicating in the business world. This seminar is open to all New York based Real Estate students.
Friday, April 21st, 9am -12pm ET
Select Speaker Series: Lessons Learned
Ackman-Ziff is pleased to be sponsoring AZ Educate | Select Speaker Series, an extension of our 4-day summer course taught via Zoom. In this unique on-going educational experience participants will hear exclusive stories from seasoned industry leaders and gain an understanding of a career in commercial real estate.
Upcoming: Fall 2023
---
Philosophy
To create the industry's premier introductory real estate course with an emphasis on business ethics, career development, networking, and the idea that building relationships and the elevation of those around us are critical to our success and happiness.
Program Summary
Ackman-Ziff is pleased to be sponsoring AZ Educate, a unique summer course and on-going educational experience where participants will hear exclusive stories and gain an understanding of a career in commercial real estate. Not only will participants learn valuable lessons from seasoned commercial real estate professionals and executives, but they will also have a unique opportunity to network with and receive mentorship from Ackman-Ziff professionals and various friends of the firm within the industry.
Our aim is to encourage and inspire young men and women to explore the comprehensive and creative world of real estate.  The immersive summer course will dive into real-world scenarios and experiences from top leaders in the field. Professionals in the industry will teach students tangible and tactical methods of connecting and communicating in the business world. From the effective use of LinkedIn, marketing, time management, preparation and organization, to negotiations, finance, and teamwork, participants will gain valuable insight to navigating a business setting and building relationships effectively.
Along with building a range of interpersonal, technical, financial, and leadership skills, participants will walk away with a comprehensive understanding of the importance of real estate, relationships, and the impact they have on society and communities. Ackman-Ziff hopes to inspire AZ Educate graduates as they continue to build upon the friendships they have gained throughout the course while they explore careers post-high school and college.
Click here to read Bisnow's feature on our 2020 success!
---
Process:
The course will be taught through storytelling, lessons learned, networking, presentations and two AZ Educate designed discussions.
Dates:
Summer Intensive Course – 2023
Session 1: June 26, 27, 28, 29 (Undergraduates)
Session 2:  August 7, 8, 9, 10 (Expanded to include post-undergraduate and graduate students)
Time: 10am – 1pm  ET
*Day 3 will be 10:00 am – 2:30 pm ET
Program Details / Requirements:
Summer Intensive Course
Virtual Introductory Real Estate Course / Mentorship Program
Designed to complement your summer internship (if you have already accepted one) and we will reach out to your employer to find a way to accommodate.
3 hours per day attending mandatory virtual instruction via Zoom
Must have access to a computer with audio/video capabilities and high-speed internet
Stipend available based on need (under consideration)
Eligibility (Preferred):
Undergraduates
Post-undergraduate and graduate students
Qualifications and Preferred Attributes:
Proof of academic standing – 3.25 GPA minimum preferred
Extracurricular activities involvement
Demonstrated leadership ability
Demonstrated passion for commercial real estate
Other personal achievements to highlight
Underserved youth and friends of the firm are encouraged to apply
---
HOW TO APPLY:
Admissions are now open, secure your spot early!
The application will include:
Contact details
LinkedIn profile
Cover letter OR video
Letter of recommendation
Transcripts
Resume
Please contact Sarah Skelton at azeducate@ackmanziff.com for additional information.
---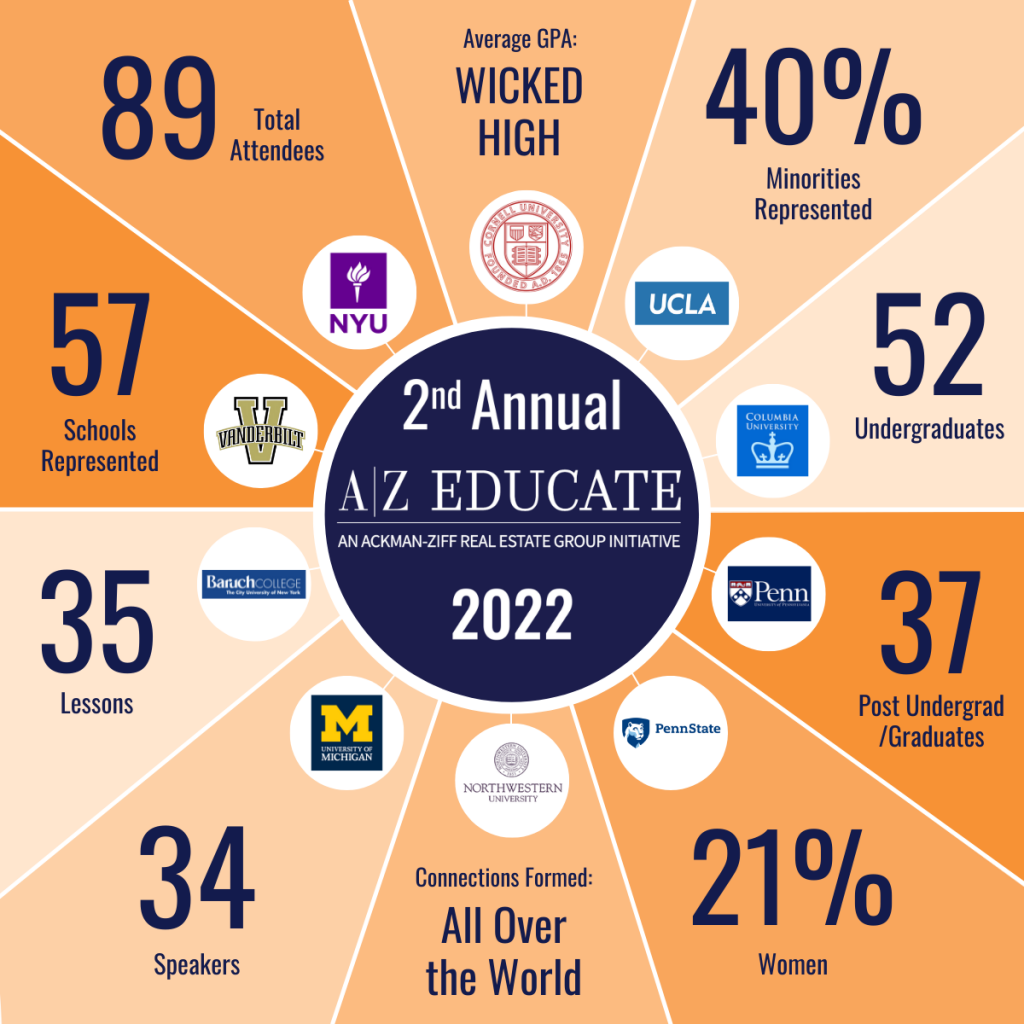 ---
Building more than a company, TRUST ONE FIRM
Ackman-Ziff has been a trusted advisor for over 90 years. This longevity is not a result of luck or happenstance, but rather leadership's focus on building a culture, not merely a company. Ackman-Ziff seeks individuals who are entrepreneurial, creative, driven, and possess a strong desire to overachieve. We encourage students across the nation of all races, sex, national origin, religion, sexual orientation, gender identities, and expressions to apply. Applicants must also be able to work in a collaborative environment and have the highest level of integrity.